Jennifer Aniston's Favorite Gold Sculpting Bar
In case you didn't know already, the premium beauty tip from celebrities is here. Jennifer Aniston did her best to promote the benefits of the gold sculpting bar, which is why we took the time to test it. The results of our findings are shared in this article. So, keep reading to discover why you should try this luxurious facial treatment today!
What is the gold sculpting bar Jennifer Aniston swears by?
So, this luxurious device was designed based on a principle. The faint electric current that goes through our body stirred the interest of the manufacturer. And the idea here was that stress and aging can disrupt this current and can lead to serious skin problems. The solution was putting gold in contact with the skin to better the current and boost the metabolic rate.
This gold sculpting bar liked by Jennifer Aniston touches your skin gently, and it stimulates from a cellular level regenerative processes in the skin. Using the gold sculpting bar will enhance your blood flow and leave you with healthier skin.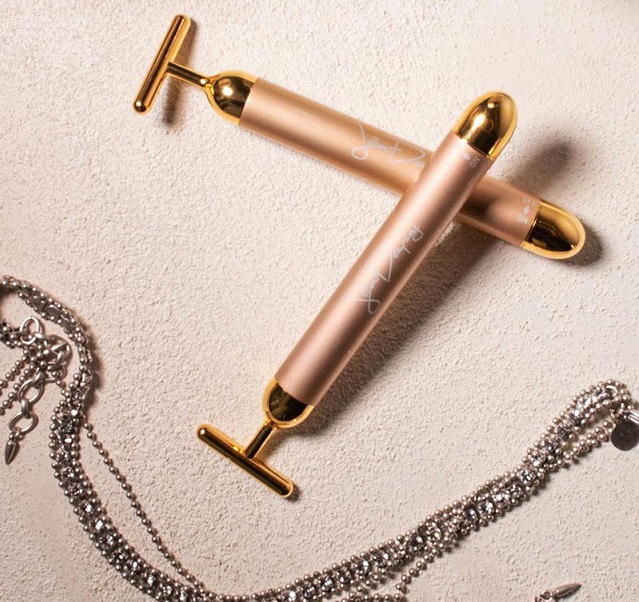 What are the skin benefits of the gold sculpting bar?
Anti-aging effects
Of course, as you might guess, the main benefit of the gold sculpting bar is its anti-aging effect. After all, this is a facial massage technique that boosts the overall appearance of the skin. And studies suggest that gold and vibrations applied on the skin are great for dealing with fine lines, wrinkles, sagging skin, and dullness.
Anti-acne effects
An interesting fact about the gold sculpting bar is that it might heal your skin. It stimulates the regenerative processes in your skin, which in turn promote healthier blood flow. This results in a lessening of acne appearance. Keep in mind that the studies on acne and gold sculpting bars are limited. So, it would be best if you used this with caution. Experts recommend applying olive oil on your skin before using the device. Also, it is best to avoid being too aggressive since your skin is already sensitive due to the acne outbursts.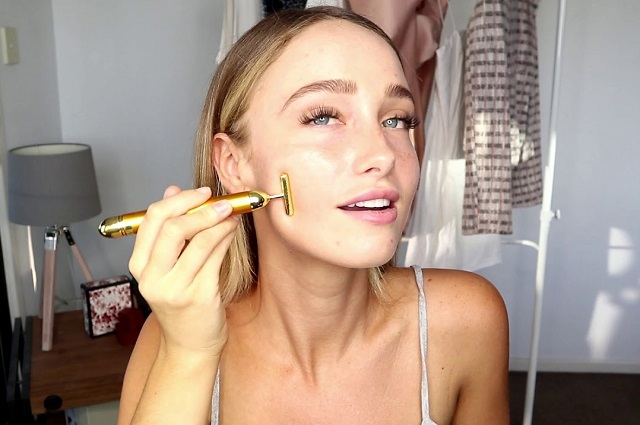 Glowing effects
Jennifer Anniston says that she struggled for several years with a dull complexion. And that the solution to all her problems was this gold sculpting bar. Any facial massage can stimulate the skin and make it brighter. But this gold sculpting bar does even more! It tightens the skin, relieves tension, increases blood flow, and results in glowing skin.
Rejuvenation effects
If you want a spa at home session, this is the best device you can use. It has similar results to the treatments applied by a trained professional. And the best part about it is that it is extremely simple to use. So, another skin benefit of the gold sculpting bar is that of facial rejuvenation.
Healing effects
An interesting fact noted by several gold sculpting bar customers is that it can help you manage scar tissue. Some limited studies suggest that since it promotes blood flow, it aids the cells to regenerate and heal the skin faster.
How to use the gold sculpting bar at home
So, now that you know the benefits of this fantastic device, you most likely wonder how to use it. And to tell you our secret here's what you need to do!
First of all, you need to create a skincare routine. This means that you will have to pamper your skin and cleanse it both in the morning and in the evening. Make sure you use a cleanser, a toner, and a face moisturizer. Also, you should never go to bed without removing makeup. And experts say that applying a night serum on your complexion can boost the benefits of the gold sculpting bar.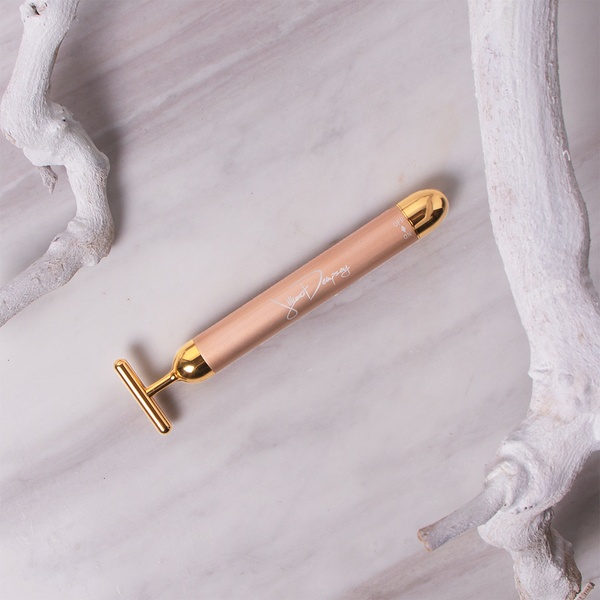 Secondly, use the gold sculpting bar at least twice per week. Aim to offer a gentle facial massage and apply it with repeated movements a couple of times. Make sure you don't use it for more than 30 seconds at once. The goal is to relax and soothe your skin, so it is not recommended to have aggressive moves. Our pro tip is to follow this gold sculpting bar routine with a moisturizing face care product. In this way

, your skin will have all the nutrients it needs to regain its youthful appearance.
The bottom line
This is Jennifer Anniston's secret for the best skincare routine. And we can tell you from our experience that this gold sculpting bar can turn out to be your ally in keeping aging signs at bay. Don't forget to take care of your skin daily!
Author:
Anna