Boxing as Modern Workout
Boxing is rapidly gaining ground as one of the new ways of workout which can keep you away from the gym and yet can shape up your body and mind as well. Boxing is currently having a mainstream moment as it can be practiced at home without any need to visit a special gymnasium to try it.
Boxing exercises can be done at home using your body weight and these render various benefits. A martial arts workout session can blow up 600 calories in an hour besides sculpturing your shoulders, core, arms, and legs.
Punch Sequence Training Workout
Nailing the punch sequences is not an easy task. It requires an extreme focus of the practitioner and a lot of force. This means boxing is helpful in training not only your mind but also your body, at the same time.
Additionally, before your punching sequences session begin; you need to warmer briefly which helps burn calories. A warm-up session will pump blood and for that, you can use a real jump rope. If you have that by your side, well. What if you don't have one, you can imagine you are holding and practice jump rope for a few minutes as a workout for a healthy body.
Boxing is a mixed bag of cardio and strength workout that your body might get addicted too soon.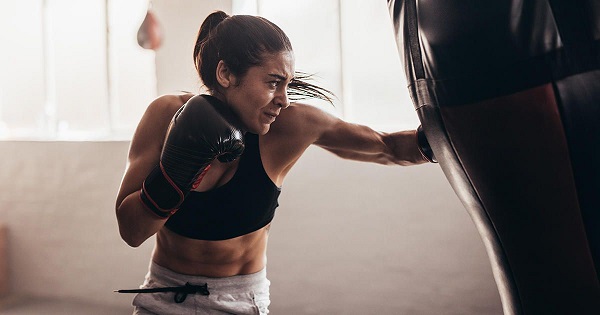 Learn Boxing Workouts Online
If you are a beginner level learner, then you can start boxing workout learning online. Online learning sessions are apt for both men and women and beginners to advanced fitness users.
Boxing workout sessions are great to do of your own or with your friend, partners, siblings, or even your parents.
But make sure there is no child below the age of 18 involved in boxing workouts or are patients with health concerns, any injuries or pregnant woman following these workout sessions.
Video instructors in the online boxing workout sessions demonstrate and talk about the various techniques throughout the video to ensure that the beginner levels trainees are in good hands.
Need for Equipment
Boxing workouts can be practiced without the need for many types of equipment. As an alternative, simple equipment such as 1kg dumbbells or resistance band can be used as the optional equipment for work out. While working on a hard floor, a mat is optional comfortable support.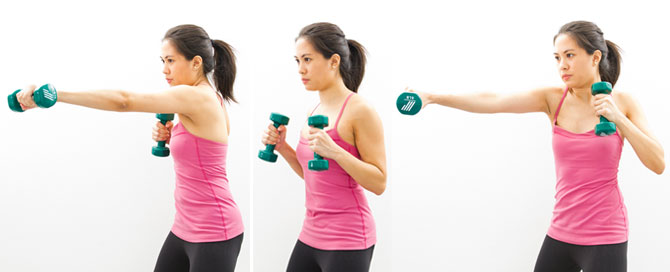 Boxing as Full-Body Toning Regime
Air Boxing is a new fad focusing on a full body toning regime while hitting hard in the air. This boxing technique utilizes light hand ways and discipline techniques to tone muscles in the shoulders, chest, back, core, and quads.
Due to its low impact nature, air boxing provides a supplementary experience to regular resistance training.
Air boxing is promoted as a kind of aerobic workout that increases your heart rate and helps shed off extra calories and fat. Moreover, it improves your balance, coordination, reflexes, respiration, endorphin production, flexibility, and strength.
In the air boxing, there are no physical targets which mean each swing and kick has to be calculated and controlled which additionally implies more sweating, strengthening, and toning.
Practicing air boxing does not involve any punching bag or a person to knockout. Rather, the force of punch has to be controlled by the practitioner through both phases (strike and retract). Punching power starts in the leg and lights up the trainee from head to toe, which means a complete package of workout. Physical results will appear in a few weeks in the form of build-up endurance, speed, and reaction time.
Wrapping Up
While most of the cardio workouts like running or cycling, limit the body to a singular plane, air boxing helps the body moves in multiple planes of motion

, as one unit.
Author:
Sunita
Want to receive
updates?
Subscribe to the diet newsletter