Freaky Trend - Long Toenails
Painting nails and shaping them to make them look trendy is always 'a girl thing'. But, the weirdest fashion that hit 2019 summer was- long toenails. The summer was truly filled with weird fashion trends, incredibly weird. Experimenting and exploring uncomfortable and awkward fashion are always good stuff. But, extra-long toenails are something that does not count normal. Painting long- pointy toenails with acrylic paint makes them an awkward version of what we call normal length toenails. The pictures even make them look much freakier.
Freaky fashions have become a thing now
Summer's is all about soaking our bodies into some lotions and of course upgrading our clothing to what we cannot wear in any other season. We always bring out our trendy summer bodysuits to beat the heat. The "long toenails" are also an example of one of these most freaky fashion trends seen on-ramp and social media.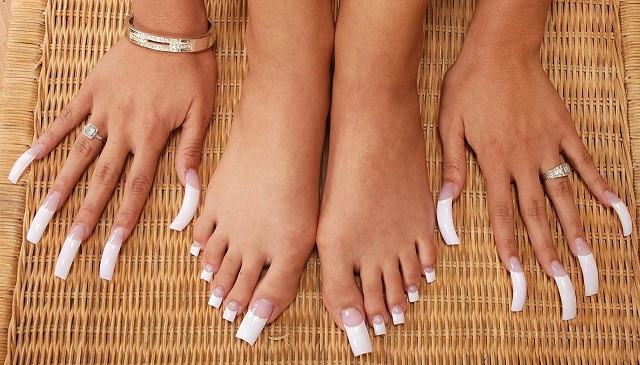 Upgrading the game of fingernails
Having long and luxurious fingernails or applying a fresh coat of paint has always been a popular trend. Or adding a coat of sparkly set of acrylics is one of the favourite things that girls enjoy before going out for any party.
The social media bloggers are now flattering the fashion vlogs about long toenails all over. And the noticeable thing is that girls are even snapping their long toenails and posting them on social media, making other girls run out crazy and getting them to opt for this unearthly fashion style.
Going crazy with nails
Nowadays, there seems no end to the normal length toenails. Fashion influencers are upgrading the game from painting natural length toenails to painting pointy and sassy nails. Sometimes seems interesting but many times it draws unwanted attention.
Short nails always make your hand and feet look pretty but sturdy nails can't be everyone's taste. Though long and big nails slightly push the concept of what is pretty.
Best long pedicure
The lovers are flaunting their best long pedicure by posting their photos on social media. These, long and fake toenails are trending but the reason for their popularity is not clear and many fashion influencers have failed to figure out why. Some shapes and sizes are weird enough to make you scratch your head. Nail lovers are coming up with amazing and the most fantastic long pedicure in all colours using hash-tags.
Inspiring Fans
The long toenails trend seems to have so much influence on nail fanatics that they are not hesitating to try their hands (read toes) at long French pedicures in varying lengths and shapes, too. Some are also trying to add a pinch of the natural element by letting their toenails grow out their own, avoiding acrylics.
Might sneak up on you
There is no problem in having normal or medium-sized toenail but these long and lusty nails sometimes might become a reason for making you feel uncomfortable. These nails can stick sand whenever you go to the beach. The inevitable problem: Cannot wear sandals without hurting your 'extra-long nails'. The real struggle will be when you wish to wear closed-toe shoes with your jumbo nails.
Conversation seekers
The nail artist and celebrities are flaunting their long and lustrous toenails all over the social media with comments that "painting acrylic on toenails does not require much attention; toenails grow at a much lower rate than fingernails".
While other comments," Nice pedicured women's feet are sexy af, but long thick looking toenails are gross. Well trimmed filed gently colored nails on buffed soft feet are the way to go".
All it takes from you is to love the art done on your toenail and feel confident enough to flaunt your style wherever you go. It is undeniable that whether you like or loathe long toenails

, they always will be a conversation starter with limited functionality.
Author:
Sunita
Want to receive
updates?
Subscribe to the diet newsletter